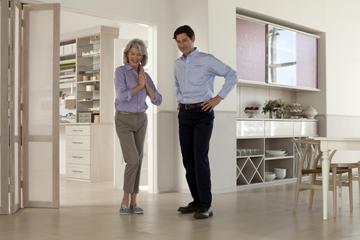 Brookhaven Laminate Flooring
Laminate floors are made to look like just about any hard-surface material imaginable and are available in wood, stone, ceramic tile looks and more. Laminates provide durability and a great deal of flexibility in style and look.
More and more Brookhaven area home owners who wish to have the look of a fine wood floor in their homes are choosing laminate flooring instead. These floors offer the beauty of a wood floor without the high cost or the pain staking maintenance. Laminate floors these days are not restricted to artificial looking designs, but companies offer a range of laminate tile choices in natural looking stone and marble finishes. Almost all rooms in the house are recommended for installing laminate flooring, except occasionally for bathrooms, saunas or other areas that require frequent damp mopping.
Call us at 404-554-4473 to get a free estimate for your laminate flooring project.
One of the many benefits of laminate flooring is that it is attractive and gives you the look of a hardwood floor without the heavy price tag. Laminate floors can be used almost anywhere in your Brookhaven area house, and they are long lasting too. If you are looking for flooring that is as beautiful as hard wood at a lower cost, then laminate flooring may be the choice for you. Often times the cost of installation too is much cheaper, and these floors can be installed on a variety of sub floors. While there are many styles of laminate floors to choose from, at Floor Coverings International- Brookhaven Flooring, our Design Associates can assist you in selecting the perfect product that fits your particular needs and budget.
Here are some things to consider when choosing a laminate floor for your Brookhaven area home.
Lifestyle Choice:
Laminate flooring is extremely resistant to warping, stains and wear.

Easy to clean and maintain, no waxing required.

Sweeping or vacuuming keeps floors grit-free and prevents scratches to the finish.
Style Choice:
You can achieve almost any look you want with today's laminates.

In many cases, laminate can be applied over existing vinyl flooring to quickly and easily update the look of a room.
Also consider that:
As with any hard surface, laminate flooring can be slippery when wet.
Contact us today to receive a free estimate for your Brookhaven laminate flooring project.